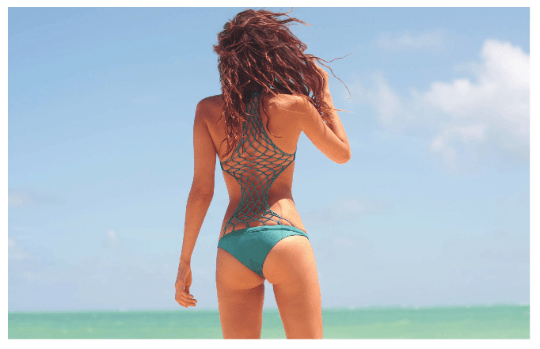 I can't get enough of
Mikoh Swimwear's
debut collection of soft colored bikinis and one-pieces that have a subtle sexy undertone (see
here
). The sister-team, Kalani and Oleema Miller, grew up on the beaches of San Clemente and both share a love for the ocean, travel and, of course, bikinis. I recently caught up with Kalani, who lives part-time in Santa Barbara when she's not traveling with her pro-surfer beau, and got some summer advice and what she has planned for the months ahead.
What Mikoh suit have you been wearing lately?
I have really been into one-pieces lately. It's like an entire part of a wardrobe that one doesn't usually consider… why not broaden your swimsuit drawer with one-pieces? They are funky and sexy. Right now I have been wearing the Xavier suit in Coral. It functions as both a one-piece and a two-piece design—business in front and party in back… similar to a mullet, but WAY sexier.
Any advice for picking the right suit?
Definitely pick out something that you feel comfortable in. There is nothing like going to the beach or hanging pool side and not feeling comfortable and confident, so pick something that you feel sexy in.
Can't live without beauty product for summer?
I LOVE Moroccan hair oil. When traveling so much, it is definitely my go-to product for dry hair after long hours on the plane and plenty of sun, sand and salty water.
Any fun Summer travel plans?
I'm headed to South Africa in July, Tahiti in August and a couple of short trips between.
What can we expect for the next Mikoh collection?
Think bright colors!
Kalani's Summer Picks

2.
Iphone
– Great for multi-tasking and taking pictures to email back home
3.
Adesso Bracelets
– I'm loving these bracelets. They are funky and fun to mix and match
4.
Sass & Bide
– After almost three months in Australia I am obsessed with Sass & Bide… basically any of their pieces are bound to make a statement and you just feel good wearing their mini works of art.
Kalani on the Gold Coast of Australia wearing Mikoh Jasper bottoms and Adesso bracelets