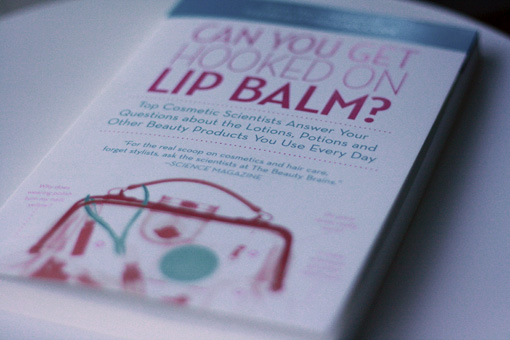 It's no surprise I'm a girly girl when it comes to beauty—see some recent posts here, here and here. I love the most luxurious and pricey products down to my $3 Aquaphor that I can't leave the house without. And I'll admit to trying out a few beauty myths from time to time—an olive oil hair mask, ground aspirin to cure blemishes and lemon juice to whiten nails.
Last week I was sent a new book by the creators of The Beauty Brains titled Can You Get Hooked on Lip Balm?, and I've been devouring it since. It's filled with answers to almost every beauty myth and question such as, does eye cream really reduce circles and puffiness? Are more expensive products worth the price? Top cosmetic scientist give an explanation, suggestions and a bottom line in response to each question. So many of my questions were answered but even better, I learned more beauty tips and secrets to incorporate into my routine.
Tell me what your favorite beauty myth, tip or secret is and like my facebook page here to enter the chance to win a $50 gift card to Sephora and your own copy of Can You Get Hooked on Lip Balm? Giveaway ends 5/10 at 12:00 pm pst. Please include your email address in your response as well.