If we're being official, technically we can all say it after this week—it's Summertime! I don't know about you guys, but it always feels so so good knowing we have nothing but sunshine, tan limbs, al fresco moments, perfectly warm nights, salty air dried hair, extra time and plenty of excuses to take a long weekend, all ahead of us. Giddy is the best way to put it. But like they always say, time flies when you're having fun and boy does the Summer always seem to come and go far too quickly. So every year I make a point to consciously fit in only the good stuff with a mental checklist. I never end up doing all the things on my list but it sure does inspire me and remind me to make the most of every sunny moment. What's on your Summer List?
1.Host a Sunday brunch.
I'm kind of obsessed with the light in our new home in the mornings and brunch is the first way I plan on entertaining with friends. Plus, who doesn't love an excuse for mimosas and blue sky? Afterwards we take our full bellies straight down to the beach. Now that's what I call a perfect Sunday.
2.A fireside glamping night at El Capitan Canyon.
Ok this I can say we really will be checking off our list. We have plans to be at El Capitan Canyon with friends this 4th of July and I can hardly wait. And yes they deliver all the fixings for s'mores cause that's how it goes when you're "glamping."
3.Take a spontaneous road trip.
I have my eye on a fun revamped motel in Los Alamos called The Skyview Inn which is a short 40 minutes from our house and smack dab in wine country.
4.Wake up on the beach.
Last year my mom rented a beach house and it was the highlight of our summer, just being able to be right on the beach for 4 days straight and listen to the crashing waves each night in bed. I got so into the idea I found a handful of beach houses I loved, you know just to have in case. We don't have plans for this summer but I'm kind of hoping we make it an annual thing!
5.Stargazing or an evening walk.
I love doing this in the dessert when it's still 90 degrees out, but any moonlit stroll in the summertime is pure romance if you ask me. Especially if you're somewhere remote where the stars really shine.
6.Mountain Air.
For that nostalgic summer camp feel, nothing beats a trip to the mountains. Lake Tahoe, Sun Valley and Idyllwild are a few of my haunts that I've been going to since I was a baby. That woodsy scent of the trees mixed with campfire is like summer in a bottle.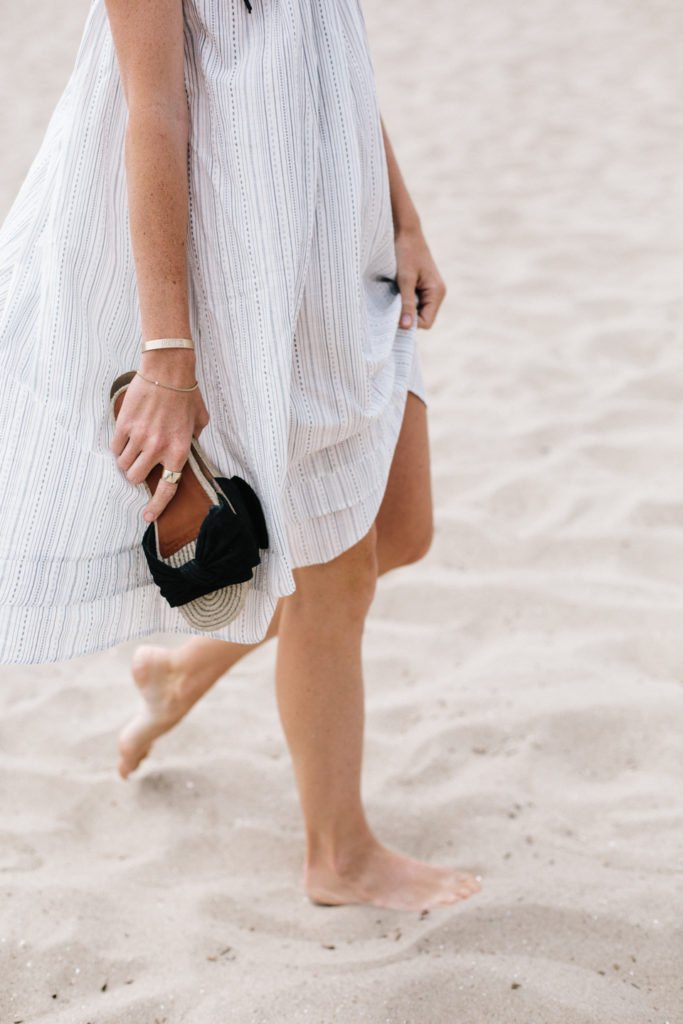 7.Sunset cruise.
There's no better place to take in a sunset on a hot July or August night then on the water. We did this once on Lake Tahoe and it still stands as one of my favorite summertime memories.
8.Ride a bike.
You know that scene in Wedding Crashers when Owen Wilson and Rachel McAdams ride bikes down to the beach? That scene (and that song) always makes me want to dust off my cruiser. But no hills please.
9.Late Night Ice Cream Run.
This is an easy one that we'll probably do at least 20 times this summer. Rory's is our spot but considering a homemade batch if I can get to it.
10. Set up an outdoor movie screen.
I think I put this one on my list every year and never seem to make it happen. But this tutorial is totally inspiring me.
MY SUMMER SHOPPING CHECKLIST
A few favorite pieces I've had my eyes on for the season ahead…