In June I celebrated my 35thbirthday. For some reason I cringed for the first time thinking about my age. I've never been one to let the number get to me but something about finding a few gray hairs and discovering a few lines here and there made the milestone harder to swallow. But before I run out and get Botox, which I'm not opposed to and plan on trying at some point, I figured I'd focus on lifestyle, diet and my skincare routine and focus on aging gracefully.
One of my favorite skincare and makeup brands, Chantecaille is family-owned and run. Their products are free of Phthalates, Sulphates, Detergents, Mineral Oil and more unfriendly ingredients found in most products. Sylvie and her daughters Alex and Olivia are immersed in the beauty world and Chantecaille and all have the most beautiful skin—no surprise. I'm always asking people I know with flawless skin what their secrets are so I asked the three of them to answer some of my burning questions on products, aging gracefully and what they rely on.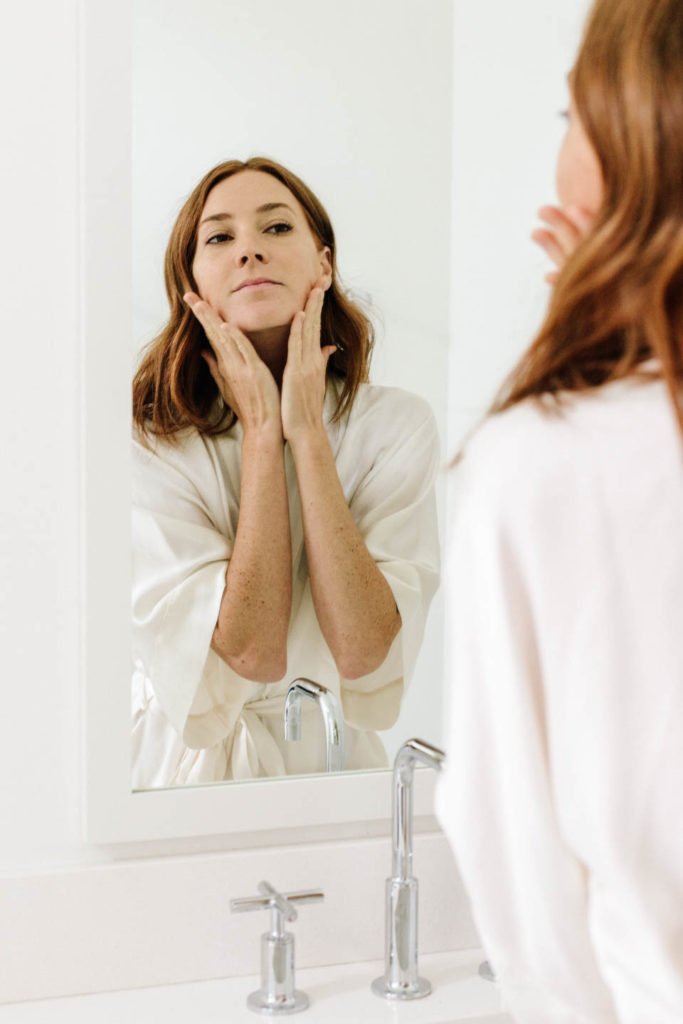 I love when my favorite beauty brands come out with baby products, because nothing makes me more nervous than using a brand I don't trust on Elin. These products are our favorite! Check out the Bébé line.
Q&A with the woman behind Chantecaille. 
1.
What is one important thing your mother taught you about aging and beauty? Any rituals she passed on coveted anti-aging tips?
ALEX: Always wash your face every morning and every night, even if just lightly, and in a pinch use face cream on a cotton pad as a makeup remover. It's soothing, gentle, and efficient.  Also – brush your hair and pull yourself together – it always helps.
OLIVIA: Take care of your skin, it all begins with healthy skin. She taught me that the highest quality botanicals work better than harsh chemicals because they are the most harmonious with your skin and encourage healing. She also showed me the value of sleeping in a mask when you are a busy working mother and have very little time for yourself.
2.
How do you pass on the idea of beauty to your daughter?
OLIVIA: We have the sweetest nighttime routine, which we do together. Delphina uses her Bebe products and we stand side-by-side in our bathroom, cleansing and taking care of our skin and talking about our day. It's my most favorite time together. We talk about loving ourselves and what feeling beautiful means—it's not about the dress you're wearing or your hair or makeup, it's about a feeling you have on the inside.
3.
Do you have a beauty essential you can't live without day to day?
ALEX: I can't live without Lip Potion – it's heavenly and feels so soothing and moisturizing.
OLIVIA: I never skip applying our Anti-Pollution Finishing Essence, which creates a botanical shield for my skin, as my final skincare step.  I like knowing that I am protected from blue light emissions and environmental pollutants, especially in Manhattan.
SYLVIE: I don't go anywhere without my Pure Rosewater. It's 100% Pure Rose de Mai that is harvested in Grasse, France. I love it because it heals the skin, soul and psyche, and the scent is so uplifting' it's intoxicating.  There is always a full size bottle on my bedside table and desk, and always a travel size in my purse!
4.
Beautiful skin can be affected by stress, food and environmental factors. What are some ways you nourish your skin from the inside?
ALEX: I eat a lot of vegetables – a lot!  I have also almost completely eliminated meat from my diet.
OLIVIA: Beauty comes from inside.  If you're not happy, and you're not taking care of yourself, it shows. I try to get enough sleep, drink lots of water and eat nourishing foods, which are all vital to keep skin looking and feeling beautiful. I love vegetables, I am practically vegan except for ice cream! I also practice calming exercises like yoga, pilates and mini meditations. I think that our inner monologue is very active and powerful, and trying to steer it to positive thoughts can have a wonderful impact on my life and how I feel.
SYLVIE: When I started Chantecaille, no other luxury brand was using our approach of blending science and botanicals to create effective, healthy products.  Everything we create is as healthy for the skin AND the body.  I also believe being a vegetarian is good for your skin, and its so important to have fruits and vegetables every day. You must know yourself and devise a balanced diet that works for you to have healthy skin.  I love olive oil—it features prominently in my diet and I also use it for my skin.  A bath with a lot of olive oil in it is amazing for your skin.
5.
Best product suggestion for anti-aging? Best lifestyle suggestion for anti-aging?
ALEX: A good hydrating serum that plumps skin and fight wrinkles and redness – we have a lot of those.  Right now I'm loving the lab sample I'm using of our upcoming Bio Lifting Serum +, which will be released in the fall.
OLIVIA: Right now I'm hyper-aware about sun, pollution and screens. Sun protection is incredibly important. And now we know that protecting from pollution, which has been proven to accelerate aging, should also be high on our priority list as well. Our Ultra Sun Protection and Just Skin are excellent SPF formulas that also have antioxidant ingredients for fighting inflammation and aging. And using our Anti Pollution products, which also have blue light protection to counteract the damage from over-exposure to computers and smartphone screens , is a really smart addition to any skincare routine.
SYLVIE: My anti-aging cocktail right now is our Bio Lifting Serum with a layer of the new Gold Recovery Mask on top.  I have also been testing a new formula for an updated version of Bio Lifting Serum – it's totally scientifically groundbreaking.  It comes out in October and is incredibly effective.
6.
We all have our good days and bad days, what's one thing you can pull out of your makeup bag that you know will make you feel amazing no matter what the circumstances are?
ALEX: Our Pure Rosewater always makes me feel amazing, the scent is so refreshing and uplifting. That and Cheek Gelée in Happy. The name says is all! It's a lovely bright pink that instantly makes me look fresh and pretty.
OLIVIA: For an instant pick-me-up on a gray day,  I reach for our new summer bronzer/highlighter, La Sirena. The fun Positano packaging is a happy reminder of sunny getaways, and the formula itself sweeps on the most beautiful, healthy glow.
SYLVIE: We are about to launch a new lipstick formula called Lip Veil.  It will benefit Space for Giants, a conservation organization working to protect the migration paths of elephants in Africa.  I love the shade Baobab – it's a mocha peach I can wear day or night, summer or winter.  It just instantly brightens up my whole face, and it feels so luxe on the lips because it's loaded with organic baobab oil, which is incredibly nourishing.
7. 
Favorite way to unwind after a long exhausting day?
ALEX: I love being outdoors in nature, so ideally I unwind with a walk along the river or a hike in the mountains. Fresh air feeds the soul (and the lungs!).
OLIVIA: I love to unwind by getting outside and being in nature. I'll go barefoot into the garden in East Hampton with Delphina to pick a bouquet of flowers for the dinner table. Or I'll take a jump in the pool, which is also  refreshing after a long day. Being in the water just changes your energy.
SYLVIE: My favorite thing after a long day is a beautiful meal at a restaurant with family and friends – great food, great conversation, and pure enjoyment and relaxation.  Afterwards, I end my day in bed with a spritz of Pure Rosewater then slather on our new Gold Recovery Mask before bed so that I wake up looking rested and refreshed, even if I only slept a few hours!
Curious how you feel about lines, aging gracefully and what beauty means?
Photography by Jacqueline Pilar.