One thing I knew we needed moving into our new home was some serious organization, especially with our closets. We were bursting at the seams in our sweet cottage and part of it was because we weren't making the most of the closet space. Elin's room in particular had become a tornado of clothes, toys and "treasures" as she liked to call them. Nothing had a home, which made it hard to keep tidy. So we partnered with California Closets to make sure our new house had a system.
During our remodel, one of California Closet's designers came by to plan and design both Elin's closet and our master closet (sharing soon!). No surprise she knew all the exact measurements of shoes, hangers and thought of things I'd never think about like a hamper drawer, a pull out hanging rod and what to store high and low. The best part about California Closets is all the options. You can customize almost everything—from the finishes, drawer treatments, lighting, drawer inserts, rod colors and the list goes on—and adjust it as your closet changes or grows.
Design note: we went with fluted rods in matte aluminum. I love the way this turned out with the linen accents!
For the drawers we went with a classic white linen paired with round knobs in matte aluminum. I love these little cubbies to display books, baskets, rolled up blankets and bags. 
Elin's accessories drawer to house her overflowing collection of bows and sunglasses.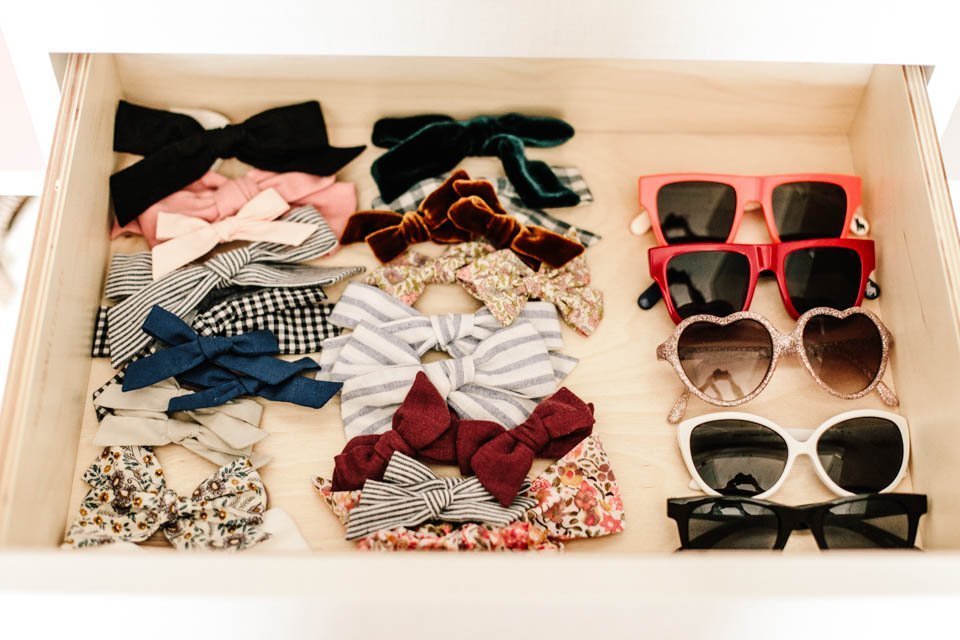 For the overall design we went with a hybrid of floor-mounted with classic white linen accents and floating sections. This to me was the perfect blend of what we wanted design wise and budget wise. It's made a world of a difference to how organized we are day-to-day.