A few months ago I was scrolling through my Instagram feed and came across my friend Sarah's pregnancy announcement. Naturally, it was exciting but to top if off she and her husband Chris were in Iceland bumping around on a babymoon! I was completely captivated by their trip and the amazing images they were taking, so much so, I asked her to share a recap of where they went and what they did. Not to mention, the element of it being a babymoon—so outside the box and I love it. A quick background on the duo, he's in sales and she's a freelance art director (both I've known for years), beyond that they're avid travelers, foodies and live in Santa Barbara.
Now on to Iceland through Sarah's eyes…
Deciding on Iceland
When the time came for my husband and I to plan our babymoon we immediately thought of somewhere tropical and relaxing, specifically Hawaii. Unfortunately, this came shortly after Kauai and the Big Island were both dealing with their fair share of misfortune thanks to Mother Nature in the form of mudslides and volcanic eruptions. The usual suspects in Europe were eliminated simply because we had recently been and other viable destinations were all crossed off due to Zika. This left us a little stumped as to where to go, but as soon as the reality of bronzing by crystal clear water, noshing on exotic fruit was abolished, it hit us —ICELAND. A total 180 and it couldn't have been more perfect.
Reykjavík
Our first stop and what came to be our home base throughout the trip, was Reykjavík. The city is small, quaint and charming, even with frigid temps and fierce winds. The architecture is perfection, the people are kind and gracious and the food scene embraces all that is good in a metropolitan city — hyper local (when possible), uncomplicated and fresh, ethnically diverse, not to mention their pastry and coffee games are dangerously strong.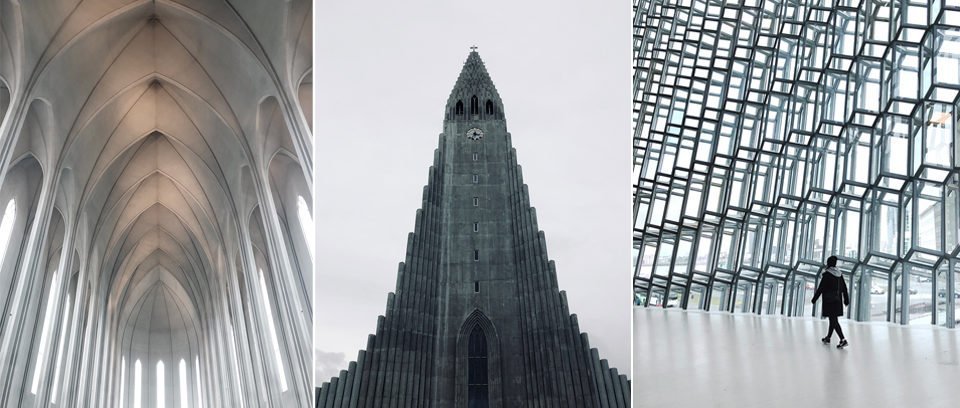 Aside from settling into the city and getting the lay of the land, definitely check out Hallgrímskirkja Church — Reykjavík's main landmark that juts up like volcanic basalt columns, offering one of the best views of the city. Take the elevator to the top for a small fee, especially if you want that quintessential photo op. Another great sight is Harpa Concert Hall —imagine catching the symphony or a concert inside this architectural gem that looks like an illuminated glass Rubik's cube. Fill in the rest of your time with museums, parks and perfectly curated homeware, apothecary and apparel shops. If you're looking for more local grit check out Bió Paradís, the city's only independent cinema or stop by the Kolaporti∂ flea market for vintage finds (only open on the weekends).
The Blue Lagoon
The conundrum that is the Blue Lagoon — to go or not to go. Let me preface this with we're not ones for guided tours and by-the book travel, however, we went. Yes, it is very touristy, like Disneyland for the biggest spa you've ever been to. And while the lagoon is manmade, it's set amongst planetary-like lava fields, filled with milky blue, seemingly fake mineral rich water — like something out of a movie. The grounds outside the spa are stunning to explore post soak, especially close to midnight (in the summer), which is when we went. 
We found it to be an experience worthwhile and even snapped our pregnancy reveal photo there! I know what you're thinking, but don't fret. It was fully doctor approved and we spent our time in the most shallow, coolest area of the lagoon (no baby or mama was harmed in the taking of this photo).
The Golden Circle
Is literally just that — a loop littered with awe-inspiring sights and adventures ranging from otherworldly roads and terrain, to waterfalls and snorkeling in glacier water. We stayed at a magical place called the Ion Adventure Hotel — a minimal, modern, rustic sanctuary out in what felt like the middle of nowhere. They use innovative materials and sustainable practices throughout, including geothermal energy from the nearby hot springs to heat the pool, bathrooms that feature water-saving showers, amenities crafted from local Icelandic herbs and furniture made from lava, reused wood and recycled tires. Equally important, their restaurant is serving some of the most amazing, innovative and organic food we've ever had. The perfect place to reside after a long day of adventuring.
Snæfellsness Peninsula
 Diversity at its best. This western most portion of Iceland offers ragged cliffs, waterfalls, moss covered lava fields, golden beaches and quaint fishing villages. If you value conscious and sustainable travel, you'll be happy to know that it's also the first Earth Check certified area in Iceland (and in Europe), not to mention fourth in the world. 
We stayed at the charming Hotel Búdir, nestled on a point amongst lava fields that lead to a tiny, black, wooden church and the Atlantic Ocean. The interior is carefully curated, punctuated with cozy nooks, fireplaces, expansive windows (perfect for viewing the northern lights if you are visiting in the winter) and most importantly, our other favorite restaurant of the trip.
We visited the towns of Arnarstapi with its oh-so popular Insta arch, Hellnar Beach and its beautiful cove and Ólafsvik for one of the tastiest brekkies around (it involved caramel). Other hitlist locales included Kirkjufell Mountain (hello GOT fans), the crater remains of Lóndrangar, Svörtuloft Lighthouse, Rau∂feldsgjá Gorge and roadside stops at Ölkelda for sparkling mineral water straight out of the ground and Landbrotalaug for a soak in a natural hot pot for two (in our case, party of one).
The South + Beyond
As we made our way South, the mossy expanse and earth tone landscape morphed into sprawling black sand beaches, moody blues, glaciers and icebergs. Tons of adventuring to be had in this area, although you may have to get creative to avoid the crowds. The DC-3 plane wreck is one of these examples as it can be less than desirable to visit when there's 20 people doing the conga line on top of the plane and you've just spent 50 minutes walking in the freezing cold. However, if you plan your trek late at night (especially in the summer as it's never dark), you will for sure get less people or none at all like we scored, making it a total worthwhile, insanely unique experience.
ENJOYING IN PEACE
In a perfect world, when you're surrounded by this much beauty, all you really want is complete solitude and while this is a bit idealistic, it's still within the realm of reality. My recommendation would be to get crafty and find alternate ways to enjoy the sites, whether it be where you park (designated lots are not always your friend), where you chose to view a site from or what time of day you go. Case and point, we parked down the street away from the main lot at the Glacier Lagoon and walked down to the water just on the other side where there were all but two people meandering by. We did the same at Skógafoss waterfall and traded crowds for fields of purple flowers. Other sites that sit lower on the tourist radar, ended up being some of our most favorite, like Svínafellsjökull glacier, one of the most stunning, mind-boggling things we've ever seen. Other highlights included catching a double-rainbow sunset at Dyrhólaey look out and ice caving at the Katla volcano — extra special if you get a crazy Icelandic guide who fancies AC/DC, extreme off-roading and carries aquavit in his backpack.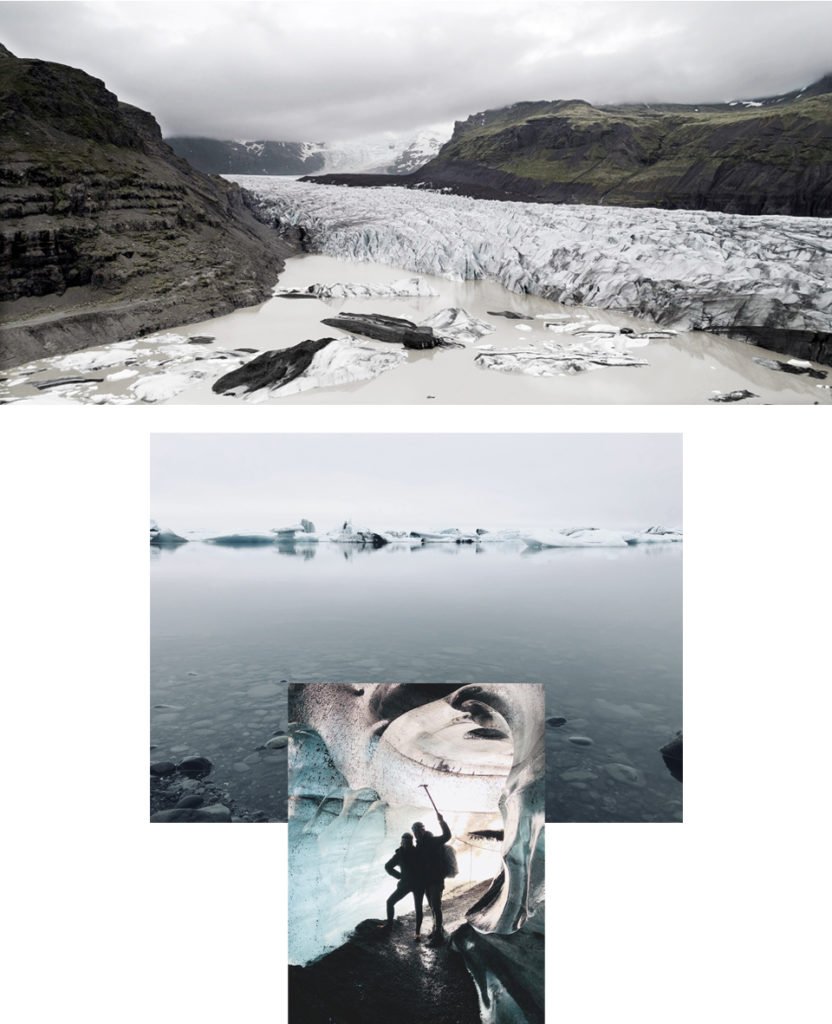 Equally as important as its beauty is knowing that you are supporting a country who seemingly has it right — they have the cleanest energy in the world, they're the highest ranked country for gender equality, their law enforcement does not carry guns, education is free and they pride themselves on being as self-sufficient and sustainable as possible. And let us not forget the diverse and stunning landscapes that offer both an abundance of adventure, soul cleansing solitude, as well as many spa-tastic opportunities.
Put this gem top of your travel list, but remember, visit with care and respect as it's a natural treasure trove worth protecting!