When we started working on our master bedroom during the remodel, there were two major things I wanted: a king size bed (our former master could only fit a queen!) and an ultra serene vibe. I don't know if it's being a parent or being in my 30's but sleep has become way more important to our everyday routine and I'm happy to say we've created a space that completely supports that. I find myself sneaking into the sheets much earlier than usual and it feels like the most calming room in our house.
First thing was first, our bed. Hallelujah for more space and a king size bed. As I shared with you guys here and here, we went with a power bed from Reverie, which has completely revolutionized my sleep while supporting both of our needs—for me it was back support, for him a firmer mattress. Along with the bed, Reverie connected us with one of their certified Sleep Coaches and we set up a series of phone calls where she walked through my sleep habits and made suggestions for how I can get better sleep. It was like a personal trainer but for sleep instead of exercise. It's been amazing to see our sleep get progressively better as we put some of these suggestions into practice—like opting for a T.V.-free bedroom, cooling off the room before bed, and not using electronics past 8 pm—and we've been able to really improve our sleep. (I highly recommend talking to a sleep coach whether you sleep poorly or great—they really can help you have more energy during the day. Use promo code "SAVE" for half off a Sleep Coaching session).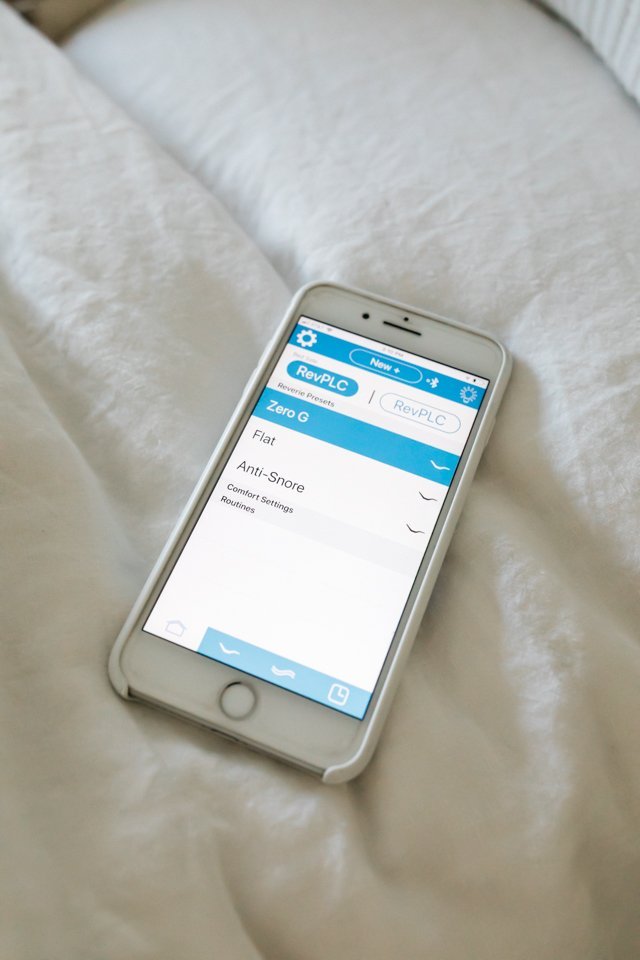 Our Reverie bed has a split mattress at the head allowing us to adjust our position individually via our phone. It's been such a game changer!
To support our light and calming environment we stuck to neutrals, clean whites and blues. Caitlin Flemming helped us pull our vision together and we couldn't be happier. We custom ordered a white slip covered frame and headboard made to fit our Reverie bed and put one of our favorite rugs we bought on a trip to Morocco underneath. To play off of the natural wood element we have throughout the house we found Elmwood bedside tables with a black metal base from Studio McGee and hung a favorite beach print by Arna Bee. Caitlin taught me a little trick with our headboard by grabbing a vintage piece of fabric and draping it over the headboard—voilà a completely different look. These pillows and fabric are from Diani Living. 
Lastly we went with Parachute linen sheets and duvet with contrasting Matelasse shams and coverlet. I've been a longtime fan of Parachute, the sheets are incredibly soft and only get better with age and, bonus, they don't use chemicals in the process. 
With the new setup, I absolutely love our bedroom. Sleep is one of those things that sometimes I forget just how important it is until I don't get enough and I'm running ragged. I feel so much better when I take care of myself by getting enough rest. I encourage you all to take that time for yourself, make your bedroom a place you love, and place a higher priority on getting sleep.