There's something about Easter and little ones that just gets me. The white dresses, baskets with surprises, the proud moment of finding an egg and all the idyllic scenes that Spring brings.
If there's ever a time I love to entertain, it's this season. All the colors, flowers and produce inspire me to pull out the linens and bring out my inner Martha Stewart. I also have the best time making it fun for Elin and her friends. From egg decorating get togethers and picnics with bunnies to Easter Sunday and putting together her Easter basket. The latter is what I've been busy with most recently—as in the last few hours. I love making her Easter basket special with things I know she'll be excited about, encourage her creativity and imagination. Maybe teensy bit of candy too. 
First thing is first, find a sweet basket. If you need a little help finding a good one, here are some of my favorite sources. We have a handful of seagrass baskets that we use around the house so I usually borrow one of those every year. They're great because they come in mini sizes and fold down creating a wider opening. My other Easter basket must is using real dried grass, sisal or natural raffia in her basket. To me, it just looks so much prettier than the plastic stuff. 
Elin is big on stuffed animals so every year I find a cute one to put in her basket. I can always count on Maileg when it comes to adorable stuffies!
Last year I found these wooden eggs with a set of paints on Etsy and put them in Elin's basket. It was such a hit and she was so excited to paint them. It was by far one of her favorite Easter Basket gifts and bonus it came without a sugar rush.
Any 4-year-old girl I know seems to be curious about Mommy's makeup bag. One way I've let her have a little fun with "pretend makeup" is giving her lip balm. Turns out there's a ton of options out there but not all of them have ingredients I'm comfortable with. This one is totally safe and comes with the cutest Easter appropriate packaging. 
I may have been living under a rock because I just discovered this cute line of mini animals and accessories that are perfect as a small Easter Basket gift. I snagged Elin a little red car to fit her new family in, I can't for her to see it. 
This romper gives me all kinds of baby fever. Elin wore it for her first Easter when she was 6 months old and it was beyond cute. It's one piece from Stella McCartney kids you can count on seeing every year. I mean that bunny tail?! 
Every Easter basket needs some kind of ears if you ask me. I've gotten creative with bunny ear hair clips, headbands and sunglasses but this mask might be one of my favorites. Plus it can hang around in the dress-up bin the rest of the year. 
Anything that sparkles and is something that mommy has is a slam dunk. Elin loves painting nails but I make sure to get non-toxic (always) and stick to water-based polish so it can come off easily without nail polish remover. This is one of our favorite brands. 
Another cute basket find. This one is perfect for an egg hunt since its light, easy to carry and has a top so eggs won't fall out in the process.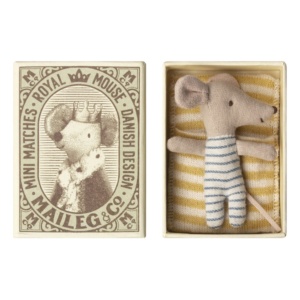 Who doesn't love a little mouse that lives in a box? If you're unfamiliar with this line of cuteness, get familiar. Each box comes with a little pillow and blanket and you can buy more accessories for your mini mice like a camping tent or sleeping bag—could you die? So damn cute!