I can't believe it's been almost a year since we moved into our new house. We're still chipping away at certain areas but our biggest project as of late has been getting our backyard and landscaping ready for some outdoor entertaining. 
And nothing got me more in the mood to throw a dinner party than the retreat I went on with Jenni Kayne and of course flipping through her new book Pacific Natural. I've been devouring it and getting filled up with ideas, inspiration and motivation to really make our outdoor living areas come together. So far we've put in grass for Elin and her friends to run around on, have picnics on and maybe a round of croquet; a decomposed granite patio; new steps leading up to our higher level backyard; fencing; landscaping and even ordered some patio furniture (one of the harder decisions to finally settle on). I'm giddy for some warm weather so we can start enjoying it.  
Here is some inspiration I've been gathering… 
Neutrals with a Pop of Black
Since we painted the exterior of our home a dark gray (almost black) color, I loved the idea of going neutral with our patio furniture selections on top of a decomposed granite patio. I'm still looking for our pop of black but have my eye on some accent chairs for our dining table. 
I love mixing chairs at a table whether it's contrasting or just a slightly different style. I'm pretty sure we'll be snagging two of these to go on the ends of a white washed teak table we found. And I love that they're only $80 each!
Every outdoor living space needs some heat if you ask me. It keeps the party going and more importantly makes everyone cozy and more comfortable—and s'mores of course! We're in the predicament of finding a good fire pit without having a gas line. 
A cozy lounge corner
Because we have a two level backyard, the top having a beautiful view, we wanted to have enough seating where a handful of people could comfortably hang out and soak in the sunset. That was an aspect we knew we had to have. We're also figuring our what kind of lighting we'll have along the stairs and above the patio and I love the idea of strung lights.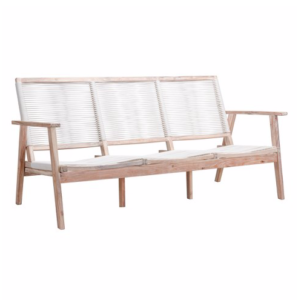 Outdoor furniture can really burn a hole in your pocket and in my experience it gets pretty worked whether you care for it or not. We set our budget pretty low and I was amazed at how many cool pieces we found on a budget. Plus I like the idea of being able to switch it out in a few years for something different. 
I'm the girl who is always cold and nothing ruins my buzz more than being uncomfortably shivering. Besides a fire pit and maybe a heat lamp I plan to have plenty of throws to bring outside and cuddle under. 
Keep em' Entertained
If you're ever in Santa Barbara you have to go to Arnoldi's for dinner where they have Bocce Ball tournaments (sometimes very competitive old Italian men) and the pasta is flowing. Since we have so much space to play around with we've been envisioning our very own Arnoldi's set up in our backyard. We'll get there, maybe not this year, but until then croquet will have to do. 
We had this game when I was a kid and I loved playing it. It's so old school and goes so well with a glass of wine. 
Every backyard needs a good playlist and this has been one of our favorite portable bluetooth speakers.