Our sweet Lila turned ONE this week and I'm in denial over how fast her first year was. But at the same time, what a year to have a baby. There were some definite cons (not seeing some family members being the biggest) but overall I felt like it was our silver lining to have life completely slow down so we could just soak in Lila's babyhood on our own schedule, pace and without any obligations (travel or social). Gosh it was a sweet year in this way for us and I'm just grateful to have her in our lives. 
Given the times, we had a small family gathering to celebrate Lila. I got beautiful flowers, balloons I knew she (and Elin would love), and a tiny little cake. Here are some snaps from the day. 
I finally found a florist in my area that I love—Forma Floral. Just take a look at her instagram page and it's full of the most stunning arrangements. If I'm being honest, the flowers were for me but the balloons were one hundred percent for Lila (and Elin who had just as much fun with them). We use the sweetest company here called Ana's Balloons for almost every birthday occasion. The girls loved the giant size and pink confetti inside and there's just something about balloons in the house that I love for birthdays—especially these days. I had the mini cake made by Merci Montecito (so simple and pretty also insanely delicious) and used an old vintage pink plate that looked so beautiful on a sandy pink linen tablecloth. I had the cutest personalized baby board book made for Lila from Artifact Uprising with all our family members pictures and names. She loves looking through books and I thought this would be such a special way for her to see family more than we get to. It's so beautifully made and will make a special keepsake that she can look through on her own. Lila is wearing a Bonpoint lace romper.
After choosing a sandy pink linen I picked soft white and pink shades to go with it.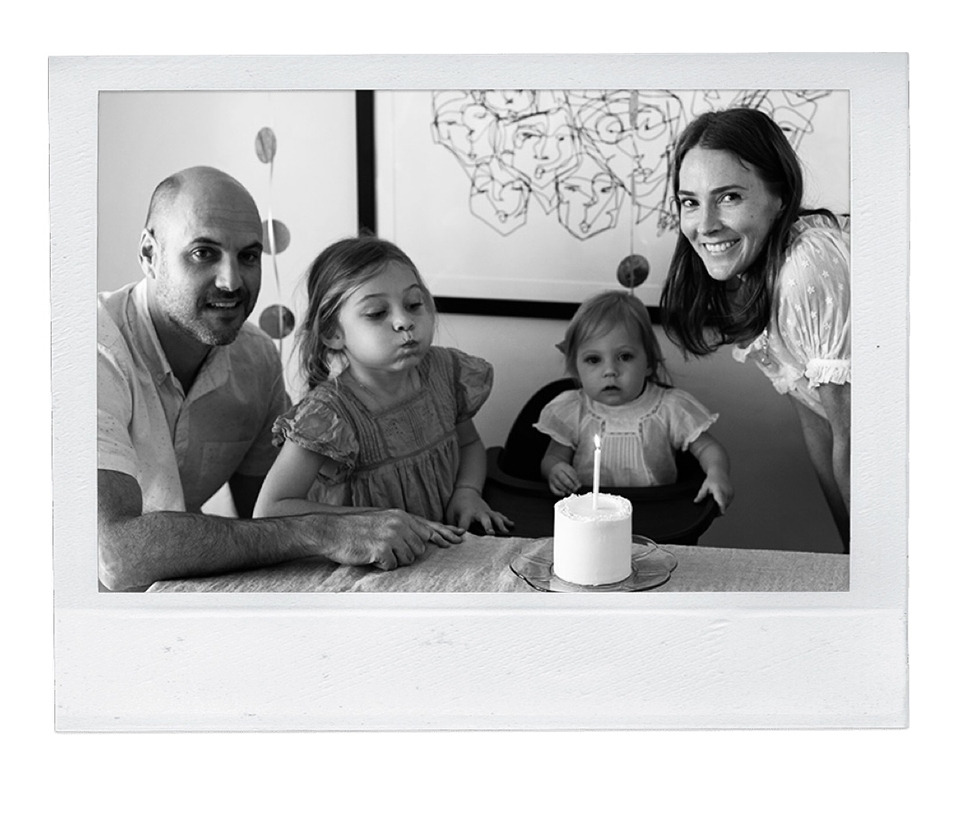 If there's one thing I learned with Elin its that video is like gold that first year! They change so much so quickly. So I made sure to compile some favorites of Lila throughout her first year to have for years to come.