I can be lazy, like here's a bowl of cereal for dinner kind of lazy, but every once in a while I get the sudden urge (sometimes obsession) to go all in with my inner Martha Stewart and dress up a table, pull out the china and hey let's have a tea party!
I partly blame it on the plethora of beautiful entertaining books I happen to acquire over the years but this month it's definitely the change of season putting a fire under me. This is not new, Spring has a way with me. The produce, color palette, blooming florals everywhere and the sunshine we've all been craving just makes me happy and suddenly hungry for lemonade and cherries. So the other day I grabbed a handful of my favorite cookbooks and put a sticky note on all the recipes I wanted to try out. I was near drooling by the end of my "research session" and filled with so many ideas I had to put them down on paper, or, this blog.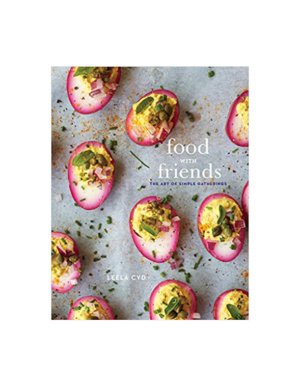 Leela Cyd is a friend of mine I've known since high school. She's an amazing photographer, chef, food stylist and new mom who also lives here in Santa Barbara. We share a love of tea time and colorful recipes. She has two amazing books that I turn to for inspiration all the time. This one has been a go to recently and I have the following recipe dog eared: Brûléed Citrus Fruits With Fresh Herbs. 
In conversation with a friend about how hard it is to avoid dessert, she recommended I check out this dairy-free, grain-free bakery in L.A. I've been making an effort over the years to eat healthier but I always run into trouble when it comes to dessert. Translation, I cave... quickly. So having healthy recipes that still feel like a treat but don't include ingredients that will give me a dessert hangover, sign me up. I've been devouring this book the last few weeks and I'm especially excited to try the Dark Horse Carrot Cake for Easter Sunday. 
Athena Calderone
//
Reads
You guys know I've been all about this book by Athena Calderone of Eye Swoon. Todd gave it to me for Christmas and it's been inspiring me to be in the kitchen more this year. One thing I love about the book is how it's organized by season and she includes design/entertaining tips too. I've moved into the Spring section and have a list of things I want to try but am most excited to whip up the Spinach And Goat Cheese Frittata—however the Cherry And Apricot Polenta Crisp is a close second. 
I've been a longtime fan of Smitten Kitchen. In fact, you'll find her crispy chewy chocolate chip cookie recipe bookmarked on my phone, it's been my go-to for years! I just re-discovered this book of hers the other day and tagged a handful of recipes for Spring. The one I'm definitely making this month is going to do wonders for my usual 10 am morning snack situation—Almond Date Breakfast Bars. I might substitute the wheat flour for almond flour so I'll let you know how it turns out! 
I've had this book for more years than I can count. Come to think of it, it might have been one of my first ones I bought post college, you know when you stop living on pizza? It's so beautifully shot and full of entertaining inspiration. It's one of the first books I pull out when I'm feeling bored in the kitchen. On my list for Spring is Donna Hay's Coconut Plum Crumbles.